Existing Buildings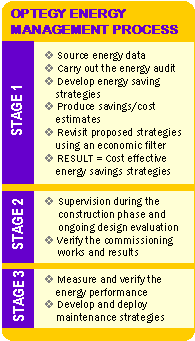 Many view the energy management process as little more than an energy audit. We believe that this whilst the audit is an important element of the process that there are a number of other elements in a practical energy management solution. Our process outline shown to the right attempts to provide an overview of the elements involved.

It's not useful to do engineering for engineering's sake. There needs to be an economic reality included in the decision process.

One of the areas that we find little consideration is given to is that of measurement and verification. The M&V process provides evidence of the outcomes from an energy project. A useful M&V model can be used to demonstrate outcomes to third parties such as auditors, and to quantify the benefits of the program.
---
© 2001-2011 by Optegy Ltd. All rights reserved.