---
Home
---
Existing Buildings
---
Tenancies
---
New Construction
---
Environment
---
CSR
---
Technical
---
About Us
---
Careers
---
Contact Us
---


Sustainable New Construction


Energy Efficient design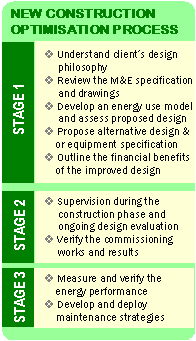 The ideal time to ensure that the M&E systems of a facility are optimised for Energy Efficiency is during the design phase.

Value engineering, dated technologies and inefficient designs can all contribute to increased operating costs. Often cost pressure will force decisions that generate operating costs during the building life-cycle that will far exceed the short-term gains.

Optegy works with building developers throughout the construction process to ensure that the M&E systems will be energy efficient.

Approach
For new construction Optegy uses a modelling approach to identify the annual energy costs.

Equipment choices contribute to a significant proportion of the facilities operating costs. A poor choice at the time of construction can impact the energy or repair and maintenance budgets for the life of that equipment.

Consideration of higher efficiency equipment at the time of construction can be offset by the lower operating costs. Focus on current technology design is a must – this includes the plant, control, and operating strategies.

Importance of commissioning
Ensuring that appropriate commissioning is carried out is vital to a comfortable and efficient facility. We often supervise this activity to ensure that what the client pays for is what the client ultimately receives.

Operational management & maintenance
When the facility is at operational stage the requirement shifts to ensuring that the proposed energy savings were achieved and that an appropriate maintenance schedule is carried out.


Back to Top »
---
© 2001-2011 by Optegy Ltd. All rights reserved.