---
Home
---
Existing Buildings
---
Tenancies
---
New Construction
---
Environment
---
CSR
---
Technical
---
Careers
---
About Us
---
Contact Us
---


Tenancies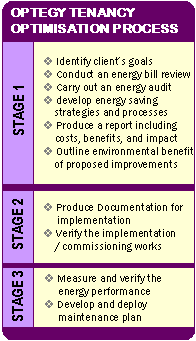 Tenancies are often neglected in the energy management process, with the focus being predominantly on the larger central plant areas.

We have significant experience in the corporate tenancy area. While the landlord often provides the Air Conditioning we have developed creative solutions to assist a variety of clients reduce their energy consumption within a tenancy.

Solutions include lighting technology, lighting control, dedicated cooling systems, plug load and more.

The operational elements of a tenancy have proven to be a significant impact on the energy consumption in many of the tenancies that we have surveyed.

With the ever increasing cost of electricity and the commitment to corporate social responsibility this program is a win-win.
Back to Top »
---
© 2001-2011 by Optegy Ltd. All rights reserved.